To copy the complete list, simply click on the Copy button.
Afrikaans: Gelukkige verjaardag
Albanian: Gëzuar ditëlindjen
Amharic: መልካም ልደት
Arabic: عيد ميلاد سعيد (Eid Milad Saeed)
Armenian: Շնորհավոր ծնունդավոր (Shnorhavor tnundavor)
Azerbaijani: Ad günün mübarək
Basque: Zorionak zure urtebetetze egunean
Belarusian: З днём нараджэння (Z dniom naradžennia)
Bengali: শুভ জন্মদিন (Shubho Jonmodin)
Bosnian: Sretan rođendan
Bulgarian: Честит рожден ден (Chestit rozhden den)
Catalan: Feliç aniversari
Cebuano: Malipayong adlawng natawhan
Chinese (Simplified): 生日快乐 (Shēngrì kuàilè)
Chinese (Traditional): 生日快樂 (Shēngrì kuàilè)
Corsican: Felice anniversariu
Croatian: Sretan rođendan
Czech: Všechno nejlepší k narozeninám
Danish: Tillykke med fødselsdagen
Dutch: Gelukkige verjaardag
English: Happy Birthday
Esperanto: Feliĉan naskiĝtagon
Estonian: Palju õnne sünnipäevaks
Filipino: Maligayang kaarawan
Finnish: Hyvää syntymäpäivää
French: Joyeux anniversaire
Frisian: Lokkige jierdei
Galician: Feliz aniversario
Georgian: ბედნიერი დაბადების დღეს (Bedniéri dabadebis dghe)
German: Alles Gute zum Geburtstag
Greek: Χαρούμενα γενέθλια (Haroúmena genéthlia)
Gujarati: જન્મદિવસ ની શુભકામના (Janmadivas nī śubhkāmanā)
Haitian Creole: Bònn fèt ou
Hausa: Barka da ranar haihuwa
Hawaiian: Hauʻoli lā hānau
Hebrew: יום הולדת שמח (Yom Huledet Sameach)
Hindi: जन्मदिन मुबारक (Janmdin Mubarak)
Hmong: Zoo siab hnub hli
Hungarian: Boldog születésnapot
Icelandic: Til hamingju með afmælið
Igbo: Ndeewo ndụ mbụ
Indonesian: Selamat ulang tahun
Irish: Breithlá sona duit
Italian: Buon compleanno
Japanese: お誕生日おめでとうございます (Otanjoubi omedetou gozaimasu)
Javanese: Slamet ulang taun
Kannada: ಜನ್ಮದಿನದ ಶುಭಾಶಯಗಳು (Janmadinada śubhāśayagaḷu)
Kazakh: Туған күніңізді құтты болсын (Tuğan küninizdi quttı bolsın)
Khmer: សួស្តីថ្ងៃកំណើត (Sousdey thngai kɑmnuət)
Korean: 생일 축하해요 (Saeng-il chukhaheyo)
Kurdish: Rojbûna te pîroz be
Kyrgyz: тууган күнүңүздөгү жөнүндө муратта (tuugan künüñüzdoğü jönündö muratta)
Lao: ວັນຄຳຕິພາບ (Van kam tiphāp)
Latin: Felix dies natalis
Latvian: Daudz laimes dzimšanas dienā
Lithuanian: Su gimtadieniu
Luxembourgish: Alles Guddes fir däi Gebuertsdag
Macedonian: Среќен роденден (Sreḱen rodenḑen)
Malagasy: Tratry ny tsingerintaonao
Malay: Selamat Hari Jadi
Malayalam: ജന്മദിനാശംസകൾ (Janmadināśaṁsakaḷ)
Maltese: Għeluq sninek tajjeb
Maori: Kia hari te whānau
Marathi: वाढदिवसाच्या शुभेच्छा (Vadhdivasācyā śubhecchā)
Mongolian: Төр66. Myanmar (Burmese): မွေးနေ့ကျွမ်းကျင်းရွေးခေတ်မှာပါ (Mwei nei chaw mingalabar)
Nepali: जन्मदिनको शुभकामना (Janmadinko shubhakamana)
Norwegian: Gratulerer med dagen
Odia: ଜନ୍ମଦିନର ଶୁଭେଚ୍ଛା (Janmadinara śubhecchā)
Pashto: تلې زده کړه (Telay zda kreh)
Persian (Farsi): تولدت مبارک (Tavallodet Mobarak)
Polish: Wszystkiego najlepszego z okazji urodzin
Portuguese: Feliz aniversário
Punjabi: ਜਨਮਦਿਨ ਮੁਬਾਰਕ (Janamdin Mubarak)
Romanian: La mulți ani
Russian: С днем рождения (S dnem rozhdeniya)
Samoan: Manuia lou aso fanau
Scots Gaelic: Co-là-breith sona dhuibh
Serbian: Срећан рођендан (Srećan rođendan)
Sesotho: Matsatsi a hau a tsohileho
Shona: Makorokoto kune ruzhinji rwako
Sindhi: ڇڪن وارو سالگره هڪ جيڪايو (Chhakun waro salgare hika jekayu)
Sinhala: සුභ උපන්දිනයක් (Subha upan dinayak)
Slovak: Všetko najlepšie k narodeninám
Slovenian: Vse najboljše za rojstni dan
Somali: Dhalashada sanadka ciidamada
Spanish: Feliz cumpleaños
Sundanese: Wilujeng tepang taun
Swahili: Furaha ya kuzaliwa
Swedish: Grattis på födelsedagen
Tajik: Таваллудатон муборак (Tavalludaton muborak)
Tamil: பிறந்தநாள் வாழ்த்துக்கள் (Piṟantanāḷ vāḻttukkaḷ)
Tatar: Туулган кө94. Telugu: జన్మదిన శుభాకాంక్షలు (Janmadina śubhākāṅkṣalu)
Thai: สุขสันต์วันเกิด (Suk-san wan-kèrt)
Turkish: İyi ki doğdun
Turkmen: Doglan günüň gutly bolsun
Ukrainian: З днем народження (Z dnem narodzhennya)
Urdu: جنم دن مبارک (Janam Din Mubarak)
Uzbek: Tug'ilgan kuningiz bilan

: Also Check This List :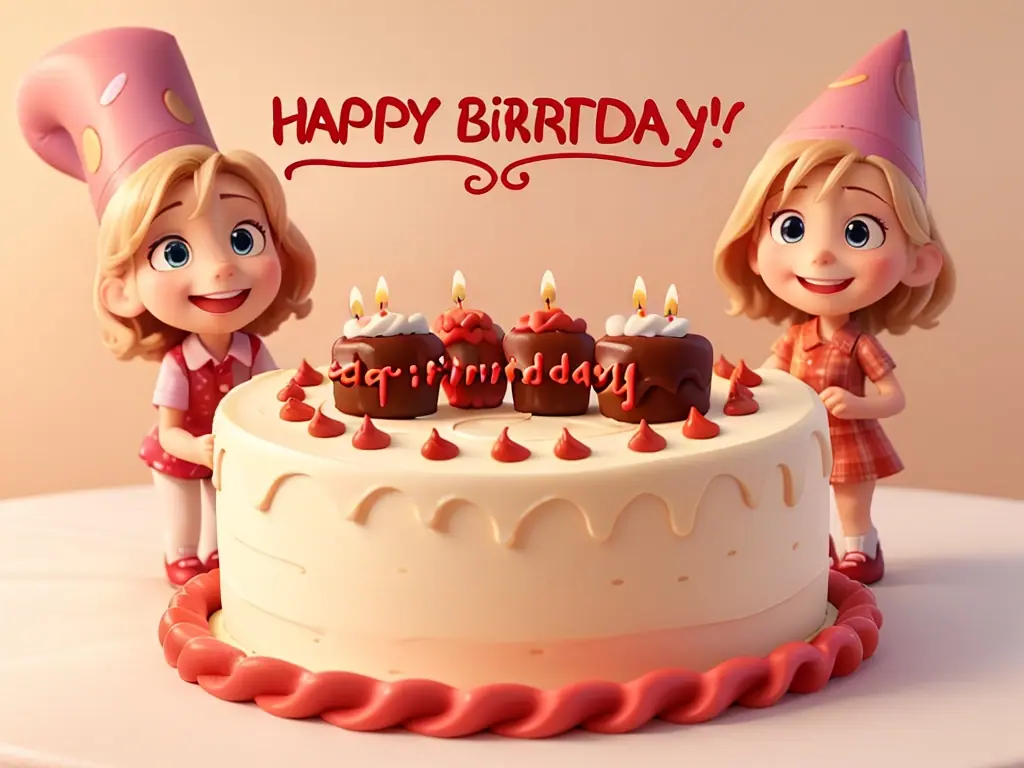 Celebrate with joy and send birthday wishes in 100 different languages. From English to Spanish, French to Japanese, and many more, this extensive collection showcases the universal celebration of birthdays. Embrace the richness of cultural diversity and extend your heartfelt wishes with "Happy Birthday" in various languages.
Copy and paste these translations to spread happiness and make someone's special day even more memorable. Discover the power of multilingual greetings and create meaningful connections with this remarkable compilation of birthday wishes in different languages.